What is premium Snapchat? How to get one? – Start your own premium & make money!
If you're a Snapchat user, then you've probably heard or read somewhere the term "premium Snapchat." Have you ever wondered what it is and why it exists?
I'll give you in detail all the information you need to know about premium Snapchat in this article, including the following:
Enough talk. Let's start!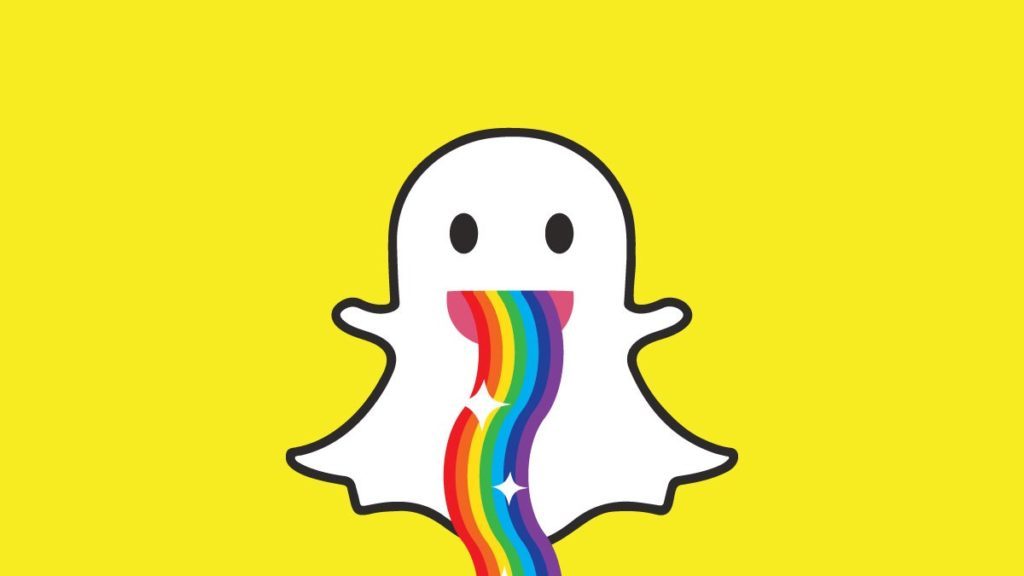 What is premium Snapchat? How does it work?
The term often refers to those Snapchat accounts created to sell premium content. These accounts are basically the same as any other typical Snapchat account created by any user.
The difference is that all of these accounts are made private. So only those on the friend list will have access to these exclusive snaps and stories. And to appear on this list, you usually have to pay a fee. The fee is per seller and may be one-off or recurring payments.
So the process is simple. You pay the girls, and they add you to their friend list on Snapchat, then you can see the content. That's it. There's no other way.
Many people think that this is a feature of Snapchat. Not so. Snapchat has no feature called "premium" at all.
There are also no standalone apps on the App Store (iOS), or Google Play Store (android) made just for you to view this content. It's the regular Snapchat application.
People call it "premium" simply because you'll have to pay to be added to the friend list of these private Snapchat accounts. So if someone says you need to download an app to see premium snaps, be careful. That may be a scam.
There are a few places for you to find usernames of Snapchat accounts dedicated to premium content. So you can add them or get them to add you. I'll go into more detail below.
Why Snapchat?
First, you should know that almost 100% of the content posted by these premium accounts is adult content. More precisely, porn. Uncensored nude photo sets and videos, full solo cum shows, boy/girl sex, girl/girl shower & bath, just to name a few. Other than that, you won't be able to find content in any other area.
And despite being banned on Snapchat, the number of people using the app to buy and sell pornography is growing fast day by day. What is the reason?
First of all, users enjoy watching Snapchat porn as this feels much more refreshing and intimate than watching porn in the usual way.
No pre-set content, no over-the-top, or repetitive sex scenes. It all happens naturally, depending on the personality and preferences of each Snapchat model and their daily life. The content thus becomes very rich, varied, and does not make viewers bored.
Plus, in addition to watching, users can also interact directly with these Snapchat girls. They can sext, talk, express emotions, and share dirtiest thoughts with each other. They can tell the girls what they like or dislike, and may even ask these girls to create content that serves their interests.
For example, a lot of people are always curious about how their dicks looks like in the eyes of others. So they just send their dick pics to these girls to get some genuine responses to the look of their penises.
That's something you can never do if you just watch porn the typical way. Snapchat is a the next-level platform for these kinds of activities.
Thus because of the advantages of watching porn on Snapchat, the number of people turning to porn this way is increasing quickly.
If there is demand, there will be supply.
There are many people involved in producing erotic content on this multimedia messaging app. A lot of people are making quite a bit of money from it. From famous porn stars like Allison Parker to amateur girls like Alva Jay and Lena The Plug.
For many of them, this is a pretty comfortable way to make money. They have freedom and are free to do what they like.
They're not under pressure from movie producers. They do not have to follow uninteresting movie scripts and to work in poor working conditions while receiving little money.
They just need to be their natural sexy selves and show their naughty dark sides to their subscribers. Importantly, the money they earn is well worth the effort they spend.
For example, Belle Delphine, an Instagram girl who is well-known for selling her bathwater, also runs a premium Snapchat account. Take a look at her Patreon page, where she's selling subscriptions for her premium snaps.
Here is a very short clip from her premium.
She offers 6 different membership levels, with the lowest price being $1/month and the highest being $2500/month. Currently, she has 1316 patrons (that's how the subscribers called on Patreon).
Assuming all 1316 patrons purchased the Silver plan ($5/month), the total would be $6580/month. So she could make a decent amount of money just by uploading everyday content to Snapchat. While the actual number is likely much higher.
Not to mention that she can make more with other things like selling T-shirts to fans, or receiving sponsorship for promoting adult products.
So, if you're really serious and invest the time and effort into this, then you can completely turn it into a high-earning full-time job.
Keep reading if you want to know how to become a Snapchat model selling private Snapchat content.
Make a new Snapchat account for premium content
The first step is to create a new account, completely separate from your current Snapchat account (if you're already using Snapchat).
Set up an account as usual. However, our advice is that you should never use a username that you use often. Do the same thing with your name, age, where you live, etc. Everything. Use fake identities.
This way, you can help yourself become safer on the Internet. Especially if you don't want people who know you in real life, someday, to find out what you're doing online.
Remember to put your account in private mode. Go to Settings, then scroll down until you see the "Who Can…" section. Choose "View My Story" and change the option "Who Can View My Story" to "My Friends." Now switch "Who Can Contact Me" to "My Friends." Finally, disable "Who Can See Me In Quick Add." Done.
Now your account is completely private, and only people you add to your friend list can see your stories.
Monetize your private Snapchat account properly
Once you have a Snapchat account for selling premium content, you need to think about how you should operate it.
First, you need to determine what content you want to create. What is your target audience? Do you feel comfortable when you're completely naked?
There are thousands of different types of adult content out there, and you have to choose one or a few of them to get started. Each type of content will fit a particular kind of customer, so keep that in mind when you start looking for subscribers.
You should start by choosing what makes you feel most comfortable. Start slowly, then expand and make your Snapchat premium more diverse. Often people start by showing nudes or boy/girl sex if they have partners.
Next, create different subscription plans for your subscribers. If you have no idea how to price your premium Snapchat yet, look at how the other girls are doing.
Some charge small monthly fees to their fans, while others charge only once, but the prices are higher. Or some people charge different fees for different types of content, such as Bella Delphine. There are countless ways to charge, and you should choose a pricing strategy that matches your content and your audience.
Our advice is to get started, you should offer cheap monthly subscriptions to your customers.
Because you're a newcomer, users are not willing to pay a premium for your content in the first place. Instead, set a small price to attract more subscribers. Give them a chance to try your premium.
If they like your content, they will continue to pay and are willing to pay more. If the number of returning customers is low, then it is likely that they do not like your content. If so, consider it an opportunity to review and adjust your premium.
Next, and also very important, is choosing the platform on which your Snapchat account works. Do you want to do everything yourself, or do you need help from a third party? Each option has its own pros and cons, which we will evaluate shortly.
1. Do It Yourself:
The advantage of doing everything yourself is that all the money you make will flow into your pocket. You don't have to share it with anyone else.
The downside, undeniable, is that you have to do everything. From content creation, advertising, creating sales channels, managing payment and refund systems, managing and taking care of members, etc. A lot of things you have to worry about.
To be honest, we recommend that you do not choose this option.
From our experience, there will be problems that cause you a lot of annoyance, headaches, and loss of time in the long run. If you choose to resolve on your own, these problems will drag you down, and you'll not be able to focus on developing your premium. It's not worth it.
You should seek help from a third party.
2. Use a Third Party Platform:
There are a few prominent names among existing platforms such as FanCentro, Onlyfans, Patreon.
Among them, in our opinion, FanCentro is the best place for you to promote your Snapchat premium.
Their system is specially designed for both content creators and content seekers on Snapchat. From their website design to the features and tools, then to the audience. Plus, most users visiting FanCentro are very into adult Snapchat content, so the chances of them paying for your premium are much higher than on other sites.
If you want to get started on FanCentro, first sign up for an account, then take a few minutes to complete your profile to become a model (or an influencer).
The next thing you need to do is promote your FanCentro profile.
FanCentro will help you manage all other jobs so you can focus on content creation and promotion.
When a new user signs up for your premium account, FanCentro will send you an email with the subscriber's Snapchat username. You'll then add that user to your private account, giving them access to your private content.
When the user cancels and expires, FanCentro will also notify you to remove this user. You can also check your member list at any time by visiting the easy-to-use management dashboard in your account.
You'll get 75% for every transaction, the rest is paid to FanCentro. They pay weekly and offer many different payment gateways to choose from.
Another similar platform is Patreon. Some Snapchat models choose Patreon over FanCentro, like Bella Delphine, in the previous example.
The advantage of Patreon is that the cost of using this platform is lower than the others. If you choose their premium plan (they have different subscription plans), Patreon will receive a total of 14.9% of the income, plus $0.3 for every successful payment. That's still cheaper than FanCentro.
However, the big downside is that Patreon does not accept pornography. And their regulations on nudity are also unclear.
In fact, not so long ago, Patreon cracked down on its NSFW content policy, and many erotic accounts and sex workers were banned. So if you're going to use Patreon to sell your content, stop it. This platform is currently only suitable if you do sexy content without nudity.
Another good option is Onlyfans. That said, the way this platform works is different from FanCentro.
If in FanCentro, users subscribe to be added to your premium account and view content right on Snapchat, then in Onlyfans, users will see content on this site. Therefore it isn't specialized.
It's also difficult for a user to find your profile if they don't know you from somewhere else already.
Apart from pornography, many other influencers also use Onlyfans, such as YouTubers, fitness trainers, public figures, and so on. So not every user coming here is looking for Snapchat content.
Onlyfans would be great if you already have a strong fanbase.
Promote your premium Snapchat and get more subscribers
Creating a private Snapchat account is a no brainer. The hard part is getting your name out there.
No matter how good your content is, if no one knows you and your premium account, you aren't going to make any money. So, learn some content promotion tactics and apply them to get your premium account noticed.
Before getting to the main part, there is one crucial thing we want to talk to you about. That is, no matter what tactics you apply, remember to NEVER promote your Snapchat account itself. Why?
Because pornographic content is prohibited on Snapchat. That means if your Snapchat account contains NSFW content, be ready to be banned at any time.
Do you want to wake up one day and see your account disappear forever and lose all your hard work? Remember, never promote your Snapchat account itself.
What you actually need to do is create a strong fanbase by leveraging the power of social networks. Once you have a strong community around you, being banned will no longer be fear. You can simply create another account and give this new account to your subscribers through the fanbase.
You also have the flexibility to move loyal users to any other platform you want, not necessarily Snapchat. This helps you become independent and ensure that you can continue to make money even if users are no longer interested in Snapchat and moving to new platforms.
Here are some excellent social sites that you can use to create your fanbase and drive traffic to your premium account.
1. Driving adult traffic to your premium from Reddit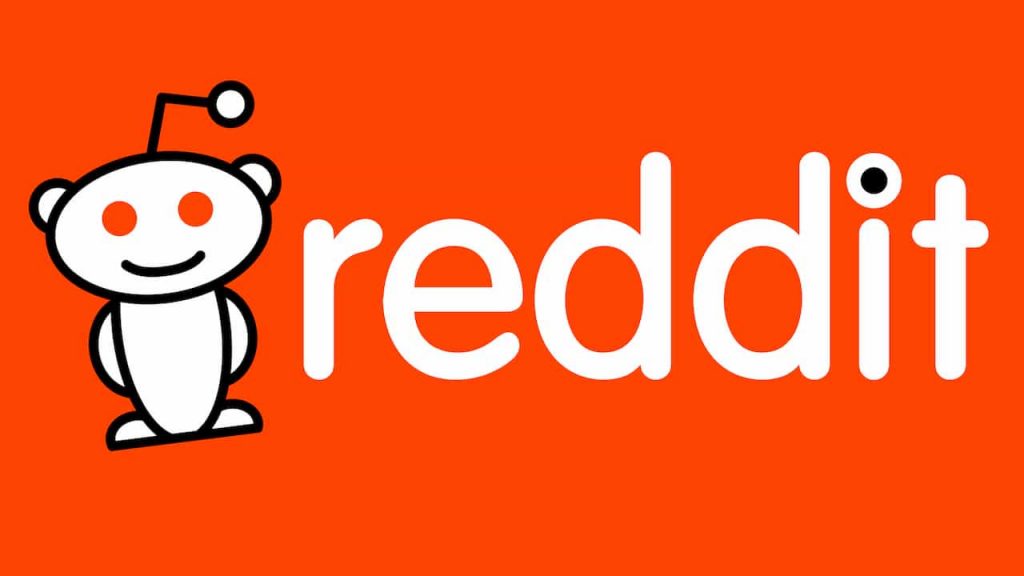 Reddit is a perfect social site to promote adult content. Their NSFW community is huge and very active. Period.
But I won't go into detail about how big they are.
Instead, I'm going to tell you how you should promote your premium on this platform.
First, you need to know that porn is allowed on Reddit. Almost any kind of porn, except involuntary pornography or sexual content involving minors. Things that are considered illegal. You name it.
That means you can almost certainly find the target audience for any kind of content here, including your premium snaps.
We can name a few prominent NSFW subreddits focusing on adult videos and photos on Snapchat, like r/nude_snapchat, r/NSFW_Snapchat, r/slutsofsnapchat, and r/SocialMediaSluts. These are the big ones. There are many other good subs, but we can't list them all.
These subs receive several hundred thousand hits per day. All are very fond of adult content on Snapchat. Imagine that you submit a post, and it ranks in the top in one or a few of these subs. Then you drop a link to your premium in that post.
Could you guess how many people will access your profile? No? Let me tell you. The number of visitors from Reddit to your profile can easily take down a server. Maybe up to several tens of thousands of people a day.
We'll let you think for yourself how much money you could make from that.
The best thing about Reddit is that it can give you a steady stream of traffic. And a stable traffic source means a stable income.
Here is what you should do.
First, find a subreddit to post your content. You can choose one of the suggested above or find another sub that you like. As a beginner, don't start with the big ones because there will be many competitors. Post your content in a smaller sub so you will have a higher chance of reaching the front.
However, don't just post any random thing. You need to look at the top posts of the sub and figure out which types of content people in that sub like the most. Then create that content.
You may not succeed the first time you try, but don't quit. Try to improve and test different content. Believe us, it's worth it.
Remember to follow the Reddit and subreddit's rules. Some require you to be verified. You don't want to be banned because, as you keep posting, you'll gain more karma and followers. Once you have enough karma, create your own sub and post exclusive content there. You'll slowly build up your community.
If a post reaches the top, people will likely ask you for more. Now it's time to give them the link to your profile if it doesn't violate the rules, or better, tell them to follow you on your own sub.
Remember to interact with people. You'll gain followers faster.
Once you have a loyal community, the possibilities are endless. You can now drive the traffic whenever you want, whether it is your Snapchat, or Instagram, or Onlyfans.
2. Build traffic from Instagram & Twitter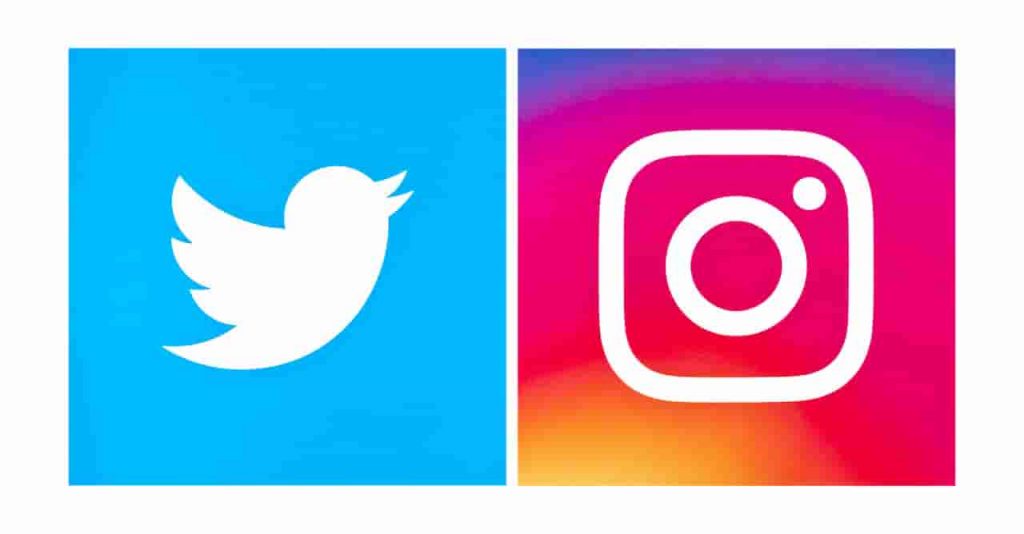 Instagram and Twitter are also great to generate more traffic for your Snapchat profile. These are two of the biggest social platforms on the Internet, and you can find a countless number of horny guys there who are obsessed with sex and girls. If you know how to entertain them, the money will run into your pocket.
However, the ways these two platforms work are different from Reddit.
The most noticeable is that you can't gain exposure as easy as you do on Reddit. There are no existing communities to post your content and drive the traffic from. You're only given a profile when it comes to Instagram or Twitter.
In fact, it's tough to gain followers on Twitter and Instagram these days due to their strict algorithms.
If you don't take advantage of other traffic sources, then you can only use the hashtag feature and follow/unfollow method to get more followers. This is sometimes very time-consuming and not effective.
That's why we recommend you to start with Reddit first because it's easier to get a certain number of followers. Then you can drive them to your Instagram & Twitter profiles. They'll be your first followers on these platforms. Once you have enough followers, your profile will start growing naturally.
To turn people from followers to paying customers, you better see an example. Take a look at this Instagram profile and try to figure out how she is driving Instagram followers to her Snapchat profile. It's not rocket science.
Remember that you can post nudes and sex videos on Twitter, but not Instagram. Always read their TOS to see what you can and can't do. Always follow the rules and don't get your account banned.
Now that you've learned the basics, you can start making money with Snapchat. Be persistent in applying what you've learned in this article. I guarantee you will succeed.
If you want to buy a subscription to a premium Snapchat, make sure you read this part.
We will list out the top sites with the best girls and models, along with their pricing plans.
If you want to try out these snaps without spending money, there are some free, but decent sites you should definitely not miss.
The paid way
If you have read the above content, you should already know that FanCentro is the best site for Snapchat models to sell their premiums. The same thing is also true for us, the buyers.
Since FanCentro consolidates all of the hottest, most popular models and influencers on social media in one place, it'll not take much time and effort to find your favorite influencer.
Their website is also very intuitive and easy to navigate. Click on one of the girls, and you'll be taken to her own page. Here you'll see a complete profile with a few free pictures of her, links to all of her other social media accounts like Reddit, Youtube, Instagram, Twitter, Onlyfans, and some stats.
Most importantly, a button to subscribe and add her on Snapchat. Click on that button, and you'll be given different subscription plans. Choose the plan for features you would like to access and pay for it. That's all.
The subscription costs can run all the way from $1/month to even as high as a few thousand dollars a month. Most girls offer basic packages for about $5/month, enough for you to see them naked.
To save 15% off any subscription on FanCentro, you can use this link.
There are other options like Onlyfans or Patreon, but these sites are not really designed for you to explore their hidden list of models. Unless you know the girl before from other sources, it'll be very hard to locate her page on these sites.
So we recommend you to start with FanCentro if you're new to this. Because if you like, you can easily find links to a model's Onlyfans or Patreon page on FanCentro.
Get those premium snaps for free
A quick tip: Sometimes, models upload free photos & videos to their FanCentro profile, and you can watch without paying anything. However, you still need to register an account and follow the model's profile to unlock her free stuff.

Reddit
These are the go-to subreddits for 18+ Snapchat content:
This is not the biggest Snapchat subreddit, but it might be the best one.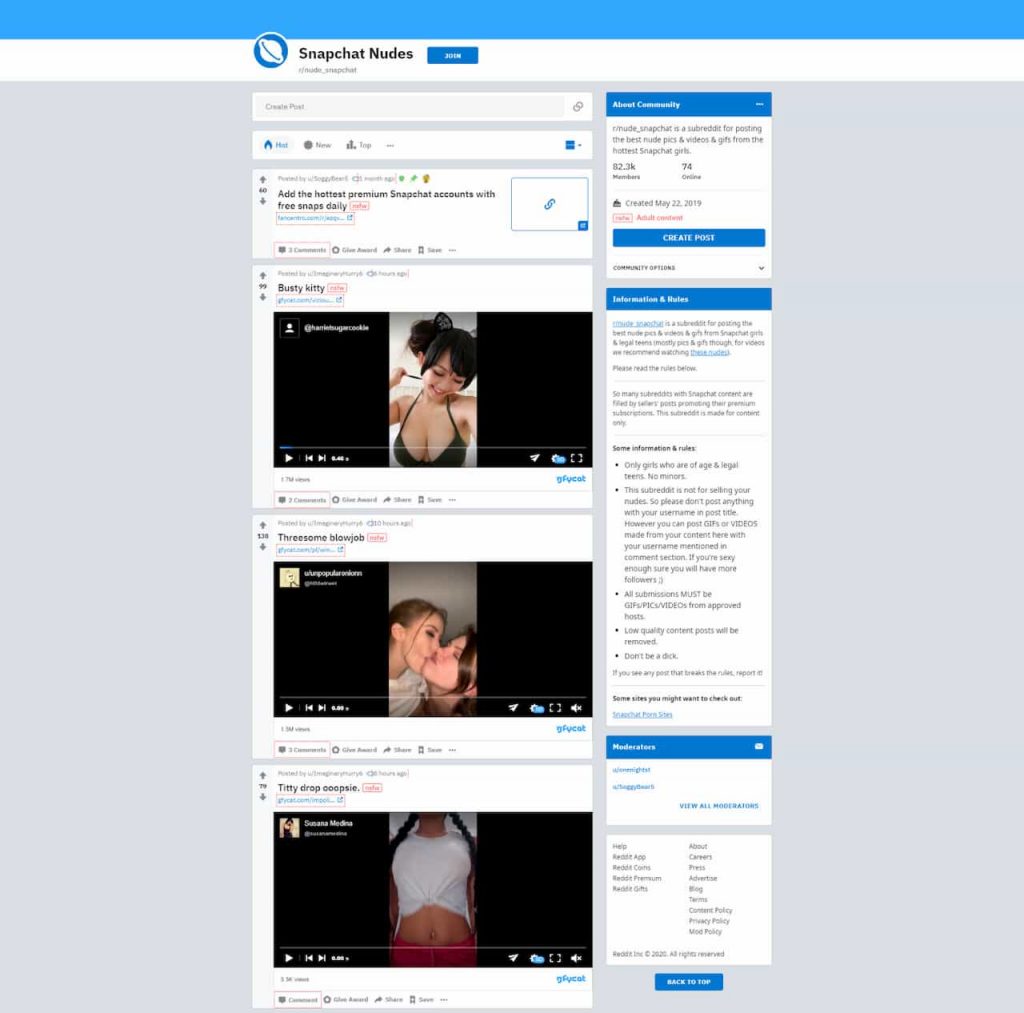 Unlike many other subreddits focusing on Snapchat content, r/nude_snapchat has stringent rules for submitters. While allowing ads in the comment section, they don't allow doing so on titles. Thus this subreddit looks clean and tidy, and it's easy to navigate.
The moderators are also doing a good job by paying close attention to the sub and frequently remove low-quality content. You'll see nothing but Snapchat content here, and most are high-quality snaps and videos. A significant difference compared to other subreddits.
If you take a look at other subs, you will see mixed content. Many of the pics and videos posted are clearly not from Snapchat. Why? If I like typical adult content, I can find it anywhere else. I'm here for Snapchat content, no bullshit, please.
That's why we like r/nude_snapchat.
The downside is though you can find free nude snaps here, if you like a certain girl you'll have to wait for someone to post more of her, or buy her premium. It's unlikely that you could find an entire album or a full collection of someone for free here.
This is the Snapchat community with the most subscribers on Reddit.
The obvious plus point of this subreddit is that almost all content is OC from verified snappers. Yes, real girls.
Some people are here to promote their premiums, while a few others post simply because they like to share their nudes. So if you like someone, you can totally ask her for more, or visit her Reddit profile to see her other posts.
However, we feel this subreddit is not very well managed. Just look over, and you'll see. There are a lot of girls posting low-quality pictures or things that have nothing to do with Snapchat like horizontal photos & videos. Sometimes this is quite annoying.
Not much to say about this sub. It's like the second version of r/NSFW_Snapchat without any improvement.
This sub was originally a place for members to share content that they downloaded from premium accounts. Now it's become a place for girls to advertise their premium usernames.
The moderation team run this sub quite well. They make sure all content is from Snapchat. Another plus point is that you can instantly add any girl you like because most of them put their Snapchat usernames on the titles.
If you want to work a little bit for free stuff, then this sub is for you.
Members here, both males and females, don't post free content but looking for dirty pals. You can make friends with them and have some sexy, dirty conversations, and ask them to show off their bodies. Some cuckolds love to share their wives or girlfriends as well.
However, since they are amateurs, the content is not always good. Sometimes you will get bored with getting the same nudes over and over again. But hey, free is free. Try it.
FKBAE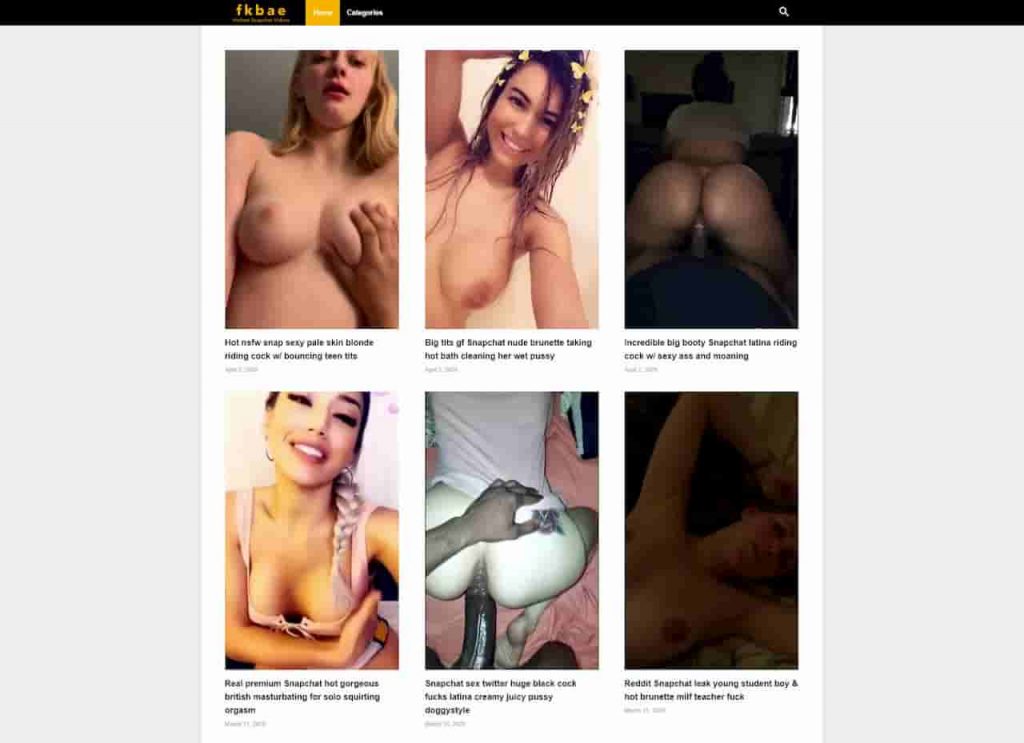 Why don't you take a look at our website? We're the best Snapchat porn site on the Internet.
We offer a wide range of free premium Snapchat videos. While some of them are leaks, most are videos and pics submitted by our loyal users. They send a huge number of snaps to us every day, and we have to handpick the best ones for you. Don't forget to check out other categories too.
If you are a beginner, our website is the perfect place to start. The site is filled with hundreds of high-quality snaps and videos, waiting for you to come to watch.